Miss Blake, 28, has suffered from irritable bowel syndrome (IBS) for six years, and has found out this week that she is pregnant.
When she enters your pharmacy, she indicates to a staff member that she would like to speak to the pharmacist about her medication. After introducing yourself, you show her to the consultation room and offer her a medicines use review (MUR).
Below is an excerpt from the MUR:
Medicine
Dose
Indication
Compliance
Use 15ml once daily when required
Poor – patient does not take often
Take one tablet three times a day when required
Good – patient takes regularly
Take two immediately, followed by one after each loose motion, up to a maximum of 16mg a day
Poor 
–
 only uses occasionally as constipation is dominant IBS symptom
The patient suffers from mixed IBS symptoms – alternating between periods of either constipation or diarrhoea – with other features including stomach cramps, bloating and wind.
When you discuss Miss Blake's medication usage, she explains that she doesn't use her lactulose often as "it's not very convenient to carry". In addition, she says she doesn't use her loperamide very often as she doesn't want to make her constipation worse.
Miss Blake is concerned that she won't be able to take her IBS medication while she is pregnant. Although she doesn't want to harm the child, she is also concerned about her symptoms occurring or getting worse.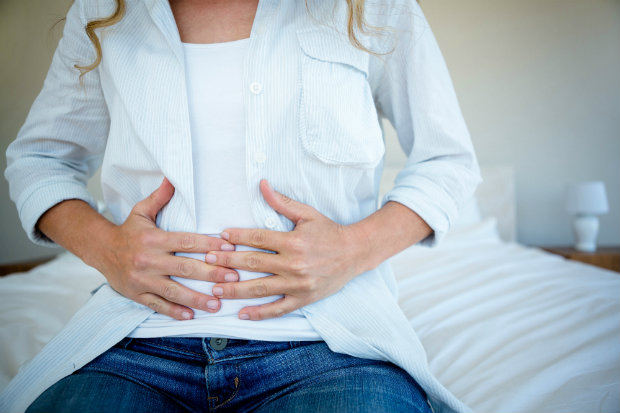 During the discussion, you realise that in general her symptoms are not well controlled, and she is normally unable to adjust the doses of her prescribed medication in accordance with the symptoms she is experiencing.
Miss Blake confesses that she is worried about continuing to take her IBS medicines while she is pregnant, but also doesn't want to suffer from a symptom flare-up.
When you ask her if she has any triggers that cause her IBS symptoms to worsen, she mentions anxiety. This leads her to ask you for some information about cognitive behavioural therapy (CBT), as she is aware this can help to reduce anxiety and believes it may help improve her IBS.
Below are the main action points from your MUR with Miss Blake:
Issue
Mebeverine during pregnancy
Recommendation
According to the BNF, mebeverine is not known to be harmful during pregnancy. However, the manufacturer advises avoiding its use. While peppermint oil capsules are also not known to be harmful during pregnancy, the BNF does not include a manufacturer's warning. Therefore peppermint oil capsules should be the preferred anti-spasmodic agent.
For action by
GP: Switch to peppermint oil capsules as BNF indicates preferable during pregnancy.
Patient: Explain that the GP may prescribe an alternative anti-spasmodic which is proven not to be harmful during pregnancy, but will still help to control stomach cramps.
Issue
Poor lactulose use, as patient doesn't find it convenient to carry about
Recommendation
Lactulose is an osmotic laxative and is safe to use regularly, and during pregnancy. If the patient would prefer an alternative laxative, you could suggest a bulk-forming laxative in sachet form that can be carried about easily. As it is not absorbed into the body, it is considered safe in pregnancy.
For action by
Patient: If continuing to use lactulose, it may be worthwhile using a smaller container to carry it out and about. If the GP does choose to prescribe a different laxative, the patient should be made aware that she can carry sachets discreetly.
Pharmacist: Explain to the patient that lactulose does not work immediately and that she doesn't need to take it when symptoms become apparent – therefore she doesn't necessarily need to carry it about.
GP: It may be appropriate to change the directions on the lactulose prescription to take daily, rather than simply "when required", as the patient is not using frequently and consequently is having bouts of constipation. The patient complains that lactulose is not easy to take with her when she is not in the house, so it may be appropriate to provide laxative that comes in sachet format, such as a bulk-forming laxative such as Fybogel.
Issue
Patient complains of occasionally being bloated
Recommendation
Patient requires dietary advice to help avoid the symptoms of bloating.
For action by
Patient: Keep a food diary to try to ascertain which foods are causing bloating. Oats and linseeds (up to one tablespoon per day) can easily be incorporated into the diet and are recommended to reduce wind and bloating.
Issue
Patient thinks CBT may help her anxiety and consequently her IBS
Recommendation
Advise the patient of the importance of self-help mechanisms for effective management of IBS. Recommend further reading to aid the patient. Advise the patient that she may not be eligible for CBT, but she should still speak to her GP.
For action by
GP: Nice recommends that referral for psychological interventions – such as CBT – should be considered in patients who do not respond to pharmacological treatment after 12 months and who develop a continuing symptom profile. The GP should assess the patient's anxiety and determine if treatment is required.
Patient: Speak to the GP about your anxiety.
Issue
Healthy living advice
Recommendation
To ensure the symptoms of IBS are minimised, and health of the unborn baby is optimised.
For action by
The pharmacist and the patient should discuss the following points:
Diet and lifestyle advice is particularly important for IBS sufferers and during pregnancy.
Start folic acid 400 microgram supplements straight away

–

 if the patient hasn't already

– 

to prevent neural tube defects in her unborn baby.
Eat regular meals and allow time to eat.
Miss Blake already suffers from constipation and this is very common during pregnancy. Ensure the patient uses a laxative regularly. In addition, you should advise IBS sufferers to review their fibre intake as this can often improve symptoms. Insoluble fibre should be avoided where possible and replaced with soluble forms such as oats, fruit and vegetables.
Alcohol and fizzy drinks should be avoided both during pregnancy and for IBS sufferers. Drink at least eight glasses of fluid per day – preferably water and non-caffeinated drinks. You should also remind Miss Blake to restrict tea and coffee.
Moderate exercise should be maintained during pregnancy and will help to reduce stress, thus improving any anxiety-related IBS symptoms. Examples of suitable activities include: swimming, brisk walking, indoor stationary cycling, step or elliptical machines, and low-impact aerobics (taught by a certified aerobics instructor).

Miss Blake says she is going to make an appointment with her GP to discuss some of these changes. You end the MUR by asking her to keep you informed of any changes and to call in again if she requires assistance.