From this CPD module you will learn:
The different types of pain that can occur
What the patient pain consultation should include
How pain scales can be used to determine pain
Knowing when codeine can be used responsibly in community pharmacy
Download a printable PDF of this module – including the five-minute test – here.
Perrigo has paid for this piece and has been involved in its creation and editing.
Why is self-care in pain so important?
More than 16.5 million GP appointments for minor ailments could be resolved by a pharmacist or through self-care every year.(1,2) Indeed, self-care for patients in pain has become more prominent since NHS England released its guidance for clinical commissioning groups (CCGs) on items that should not routinely be prescribed in primary care(3) and conditions for which over-the-counter (OTC) items should not routinely be prescribed.(4) This included minor conditions associated with pain, discomfort and/or fever (eg aches and sprains, headache, period pain and back pain).
With access to a range of OTC pain medicines, pharmacists are ideally placed to meet the growing demand from their patients who need advice and information on how best to manage their pain symptoms. This in turn presents an opportunity for community pharmacists to have more interactions with patients relating to these conditions, providing information while building relationships.
Burden of pain
The British Pain Society (BPS) states that almost 10 million people in the UK suffer pain every day.(5) The impact pain has on the healthcare system is significant. For example, it has been estimated that 4.9 million days of work are lost a year because of work-related back pain, at a cost to the exchequer of around £5 billion.(5)
According to the BPS, pain can be categorised as either acute – less than 12 weeks' duration – or chronic – lasting more than 12 weeks. The society describes pain as "an emotion experienced in the brain; it is not like touch, taste, sight, smell or hearing". Pain can be perceived as a warning of potential damage, but can also be present when no actual harm is being done to the body.(6)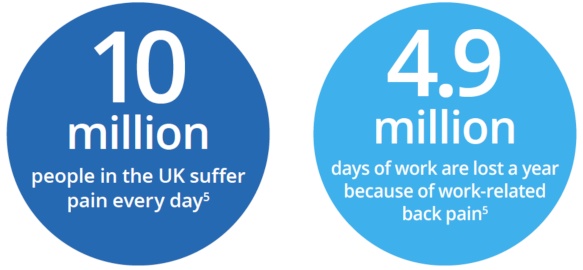 Pain types
Although pain is often described by cause (eg cancer or postoperative) or area affected (eg headache or lower back pain)(7) it can be broadly classified by pathophysiology (eg nociceptive or neuropathic).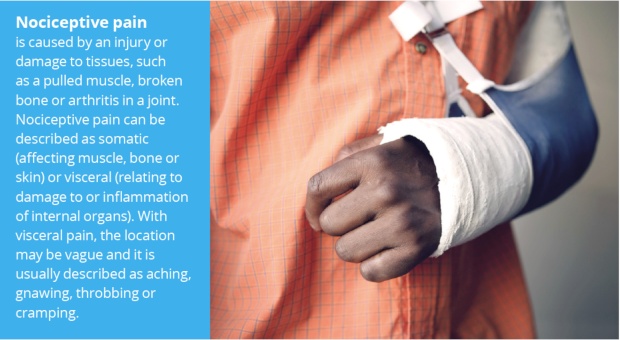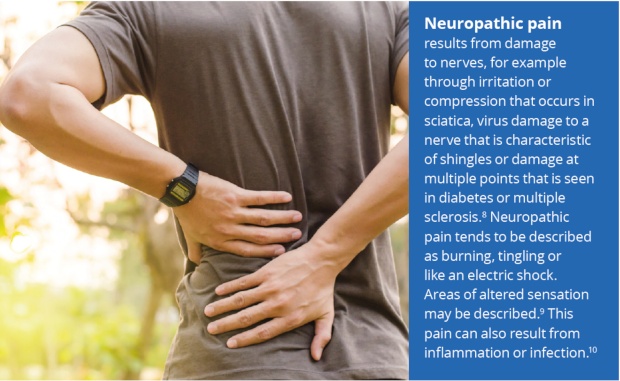 The patient consultation
The proper assessment of a person is important to enable their pain to be well controlled.(6) You should ask patients presenting with pain:
where the pain is
its duration
its speed of onset
whether it is intermittent or constant.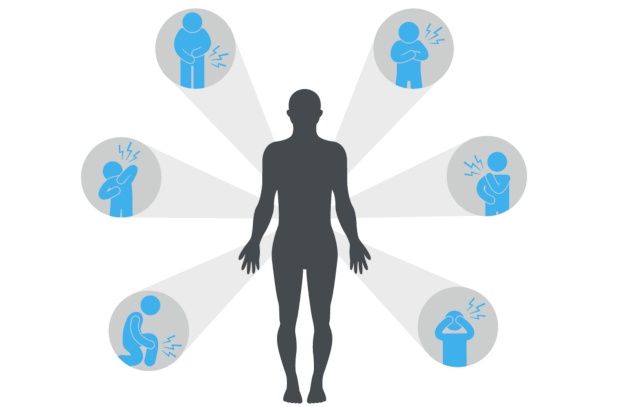 You should ask patients to describe their pain, because this will help you determine whether it is neuropathic or nociceptive. It is helpful to know if anything aggravates or relieves the pain and the impact it has on everyday activities, including social and emotional aspects.
Determining the severity of the pain helps you to determine the level of pain relief that may be required.(11) You should ask about medicines the patient may have already tried (eg purchased over the counter) or may currently be taking (eg on prescription).
It is important to understand that pain is subjective. Pain is a personal experience differing from one person to another and likely to impact daily life in different ways. Simply put, pain is what the person says hurts.(12) Although it is important to get a firm understanding of the causes and level of pain, you should also ensure you are empathetic and reassure patients that your aim is to help them manage their pain. Empathy and effective communication skills can increase patient satisfaction, improve their compliance with therapy, and enhance your ability to diagnose and treat the patient.
What are the consequences of pain?
Pain is a challenge to manage – incorrect management or under-treatment are not uncommon. Patients left in pain can begin to suffer depression, insomnia, lethargy and reduced physical and mental functioning.(11)
Rating scales
Although empathy and questioning can go a long way to determining a patient's pain, they do have their limits. An objective measure of the intensity of an individual's pain can be assessed using instruments such as the Brief Pain Inventory.(13) This asks people to say what treatment they have already taken and how much pain relief it has given them, as well as the extent to which their pain interferes with everyday activities and mood. However, this may feel like a long form to fill out during a counter consultation.
Other tools include the visual analogue scale (VAS) and numeric rating scale (NRS). These are used to assess the intensity of acute pain. The NRS uses an 11-point scale (0='no pain', 10='worst pain' or 'pain as bad as it could be') and is simple to use.
However, the VAS is considered the 'gold standard' and is used particularly in research. It consists of a 100mm unmarked line with the words: 'no pain' on the left of the line, and 'worst pain imaginable' on the right. The patient marks the line at a point that they feel equates to their level of pain
Another scale that is simple to use is the categorical verbal rating scale. You can ask patients to choose words that best describe the level of their pain; for example, none, mild, moderate or severe. However, one disadvantage is that language may be a barrier to its use.(14)
The BPS produces a pain rating scale in a number of different languages. It uses a 10-point visual analogue scale and asks patients to rate the intensity of their pain, how distressing it is and how much it interferes with everyday activities.
The BPS scales can be found here. Solpadeine has also produced a simplified pain scale (pictured) that is available here.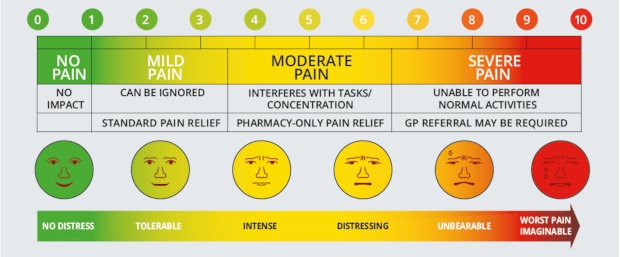 What are the clinical recommendations?
The World Health Organisation's pain relief ladder, originally designed for cancer patients, forms the basis of a stepwise approach to pain management. In essence, it outlines how to increase the potency of analgesics if current treatment is not providing sufficient relief.(15)
The principle can be applied to mild-to-moderate pain in adults, as five steps outlined by the National Institute for health and Care Excellence's (Nice) Clinical Knowledge Summaries.(16)
Helping your patients
Once you have assessed the type and intensity of a patient's pain, you will be able to advise them about the choice of an appropriate analgesic, guided by the stepwise process outlined in this guide. You will also be able to provide them with support and information that will give them the confidence to manage their symptoms themselves, knowing that they can rely on the specialist knowledge of pharmacy staff to guide them.
A quick comparison of pain relief options

* Available without prescription for period pain.(19)
What evidence exists for the use of caffeine in pain management?
The role of caffeine in pain relief has been the focus of increasing attention over recent years.(17) A Cochrane review of the use of caffeine as an adjuvant to analgesics, including paracetamol, ibuprofen and aspirin, considered randomised, double-blind studies that compared a single dose of analgesic plus caffeine with the same dose of the analgesic alone in the treatment of acute pain.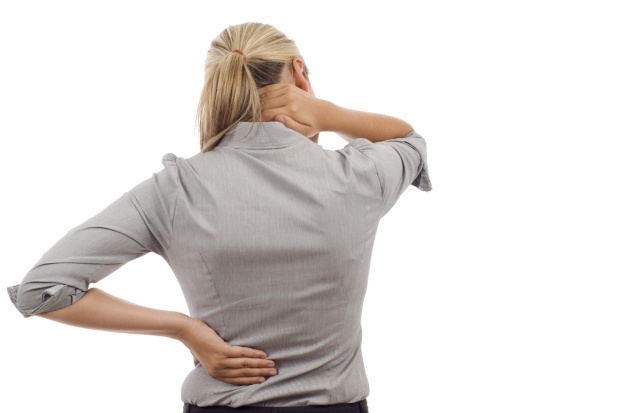 In all, 14 studies were analysed involving 4,262 participants with an acute painful condition (headache, postpartum pain and postoperative pain were among the most common). The authors concluded that caffeine added to standard doses of commonly used analgesics, such as paracetamol, ibuprofen and aspirin, increased the number of people who experienced a good level of pain relief compared with those who took an analgesic alone.(18)
However, the mechanism by which caffeine enhances the effect of analgesics is still not well understood.
Responsible use of codeine
The summary of product characteristics for codeine says the drug should be used at the lowest effective dose for the shortest period of time. The drug can be taken up to four times a day at intervals of not less than six hours. The maximum daily dose should not exceed 240mg on prescription.(19) OTC preparations contain lower doses of codeine, but should also be used to the lower effective dose. Duration of treatment should be limited to three days, at which point patients who are are still experiencing pain should be referred to their GP to receive additional expert advice.
Although codeine is thought of as being less addictive than other opiates, it needs to be taken with caution. Taking codeine for more than three days may lead to addiction,(20,21) while prolonged use can also result in tolerance to the drug developing, making it less effective.(22) However, it has a place in the management of acute pain, as outlined in the five steps to pain relief.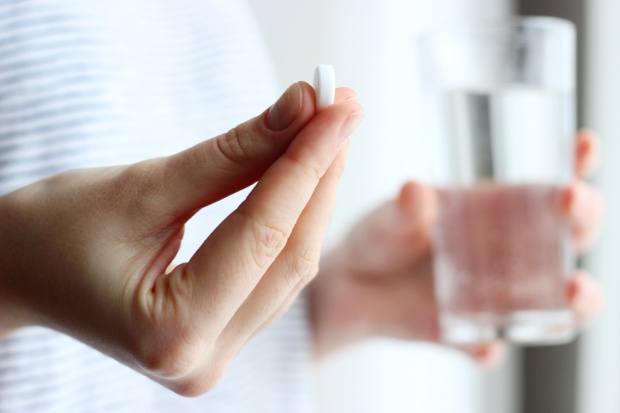 You should note that codeine is not suitable for children under 12 years of age or adolescents who have breathing problems. Breastfeeding mothers should not take codeine to avoid exposure of the drug to their baby through their breast milk.(23)
In the same way that analgesia may be stepped up according to the level of pain experienced, it may also be stepped down as the cause of the pain resolves and the intensity of the pain experienced subsides.
Self-care and management of pain CPD
What are you planning to learn?
I want to learn more about the different types of pain that can occur, what a patient pain consultation should include and how pain scales can be used to determine pain. I also want to improve my knowledge of when codeine can be used responsibly in community pharmacy.
This learning will help me to improve my knowledge of pain management and to be able to provide better, more effective advice to the patients I serve in my pharmacy.
How are you planning to learn it?
Give an example of how this learning has benefited the people using your services
A young man came into the pharmacy asking for information about pain relief for his back. He had been suffering for two days and had tried paracetamol, but this was not helping. I was able to assess the intensity level of his pain and advise about the choice of an appropriate analgesic. I also signposted him to further information and gave advice about non-pharmacological self-help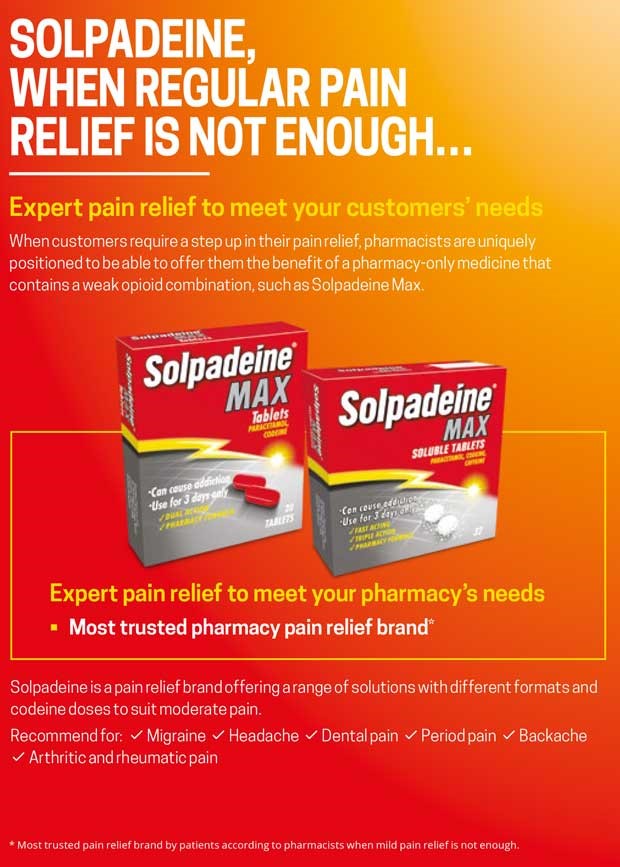 Product information: Solpadeine Max Soluble Tablets (P) contain paracetamol, codeine phosphate hemihydrate and caffeine. For the treatment of acute moderate pain which is not relieved by paracetamol or ibuprofen alone, including headache, migraine, dental pain, period pain, strains & sprains, backache, arthritic & rheumatic pain and sciatica. Adults: 2 tablets dissolved in water every 4-6 hours as needed. Max 8 tablets in 24 hours. Children 16-18 years: 1-2 tablets dissolved in water every 6 hours as needed. Max 8 tablets in 24 hours. Children 12-15 years: 1 tablet dissolved in water every 6 hours as needed. Max 4 tablets in 24 hours. Do not give to children under 12 years. Do not take for more than 3 days without consulting a doctor. Do not take any other paracetamol or codeine containing products concurrently. Can cause addiction. Use for 3 days only. In case of overdose, seek immediate medical advice, even if the patient feels well. Contraindications: Known hypersensitivity to ingredients, lactation, known CYP2D6 ultra-rapid metabolisers, patients 0-18 years who undergo tonsillectomy and/or adenoidectomy for obstructive sleep apnoea syndrome. Caution: Severe renal or hepatic impairment, non-cirrhotic alcoholic liver disease, obstructive bowel disorders, previous cholecystectomy, acute abdominal conditions, pregnancy, salt restricted diet. Interactions: Warfarin or other coumarins, domperidone, metoclopramide, colestyramine, monoamine-oxidase inhibitors. Side effects: Thrombocytopenia, agranulocystosis, anaphylaxis, cutaneous hypersensitivity reactions, hepatic dysfunction, GI disturbance, dependency or worsening of headache following prolonged use. PL: 02855/0078. MAH: Omega Pharma Ltd, 32 Vauxhall Bridge Road, London, SW1V 2SA. RRP (excl. VAT): 32s £8.09 SPC: www.medicines.org.uk/emc/medicine/21649
Product information: Solpadeine Max Tablets (P) contain paracetamol and codeine phosphate hemihydrate. For the treatment of acute moderate pain which is not relieved by paracetamol or ibuprofen alone, including migraine, headache, dental pain, period pain, backache, arthritic & rheumatic pain, strains & sprains and sciatica. Adults: 2 tablets every 4-6 hours as needed. Max 8 tablets in 24 hours. Children 16-18 years: 1-2 tablets every 6 hours as needed. Max 8 tablets in 24 hours. Children 12-15 years: 1 tablet every 6 hours as needed. Max 4 tablets in 24 hours. Do not give to children under 12 years. Do not take for more than 3 days without consulting a doctor. Do not take any other paracetamol or codeine containing products concurrently. Can cause addiction. Use for 3 days only. In case of overdose, seek immediate medical advice, even if the patient feels well. Contraindications: Known hypersensitivity to ingredients, lactation, rare hereditary intolerance to some sugars, known CYP2D6 ultra-rapid metabolisers, patients 0-18 years who undergo tonsillectomy and/or adenoidectomy for obstructive sleep apnoea syndrome. Caution: Severe renal or hepatic impairment, non-cirrhotic alcoholic liver disease, obstructive bowel disorders, previous cholecystectomy, acute abdominal conditions, pregnancy. Interactions: Warfarin or other coumarins, domperidone, metoclopramide, colestyramine, monoamine-oxidase inhibitors. Side effects: Thrombocytopenia, agranulocystosis, anaphylaxis, cutaneous hypersensitivity reactions, hepatic dysfunction, GI disturbance, dependency or worsening of headache following prolonged use. PL: 02855/0074. MAH: Omega Pharma Ltd, 32 Vauxhall Bridge Road, London, SW1V 2SA. RRP (excl. VAT): 20s £5.89, 30s £7.59 SPC: https://www.medicines.org.uk/emc/medicine/16071
References