This article was correct at time of writing (March 18) - to keep up with the latest information please visit our Coronavirus hub
Due to the rapid spread of the COVID-19 supermarkets and pharmacies are struggling to keep up with demand for everyday products, including hand sanitiser gel.
Current guidance recommends frequent hand washing for at least 20 seconds with soap and water to avoid catching or spreading COVID-19.(1)
You should wash your hands:
After using the toilet or changing a nappy
Before and after handling raw foods like meat and vegetables
Before eating or handling food
After blowing your nose, sneezing or coughing
Before and after treating a cut or wound
After being in a public place
After touching animals.(2)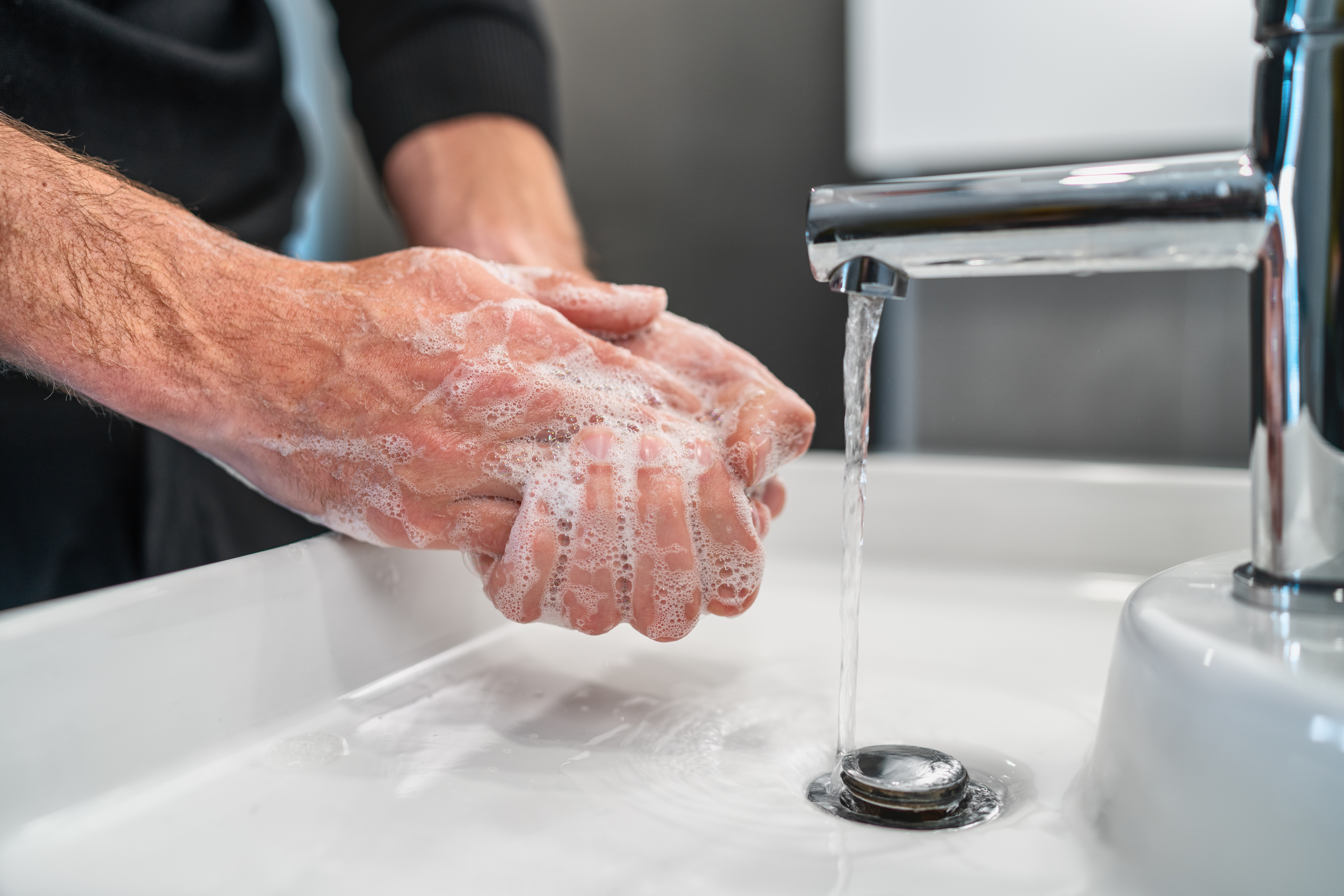 The NHS has produced a video on the best way to wash your hands.
It is important to ensure children are washing their hands correctly. Measures like having a booster step so children can reach soap themselves can encourage correct hand hygiene.
Frequent handwashing may cause skin irritation and result in irritant contact dermatitis. This can cause itching and the skin may become red, sore, and develop blisters or fissures.(3)
The British Association of Dermatologists recommends the following to minimise the impact of frequent hand washing:(3)
Soap substitutes give moisture to the skin and reduce the risk of irritation and dryness – your pharmacist may be able to direct you to a suitable product.
Moisturisers (emollients) are an essential part of treating hand dermatitis. They help repair the damaged outer skin and lock moisture in the skin, making it soft and supple again. They should be applied after handwashing, repeatedly through the day and whenever the skin feels dry.
Some people find overnight moisturising treatments beneficial. Apply a generous layer of a plain moisturiser just before you go to bed, then put on a pair of clean cotton gloves and leave overnight.
When the hands are going to come into contact with water or detergents, but when not specifically washing the hands (such as when washing up, shampooing a child's hair, or using cleaning products), wearing latex or rubber gloves will help keep the skin barrier intact.
Those with severe hand dermatitis or suspected infection may need to contact their GP for further advice and should do so by telephone during the outbreak.(3)
If soap and water is not immediately available, NHS guidance is that hand sanitiser may be used. Studies have shown that alcohol-based sanitisers containing at least 60% alcohol are most effective. Hand sanitisers with less than 60% alcohol content will only reduce the growth of germs, rather than kill them.(1,3)
How effective is hand sanitiser?
When used correctly, hand sanitisers that contain the required amount of alcohol can be effective against microbes, quickly reducing the amount present on hands. Hand sanitiser can be effective against the virus responsible for COVID-19 – SARS-CoV-2.(4)
If hands are greasy or soiled, such as after gardening or playing sports, hand sanitiser may not be effective. In these situations, water and soap should be used.(4)
How to use hand sanitiser?
A sufficient amount of gel to cover all surfaces on both hands and fingers should be placed into the palm and rubbed all over. The gel should be rubbed in for at least 30–60 seconds and sometimes it can take 60 seconds for the gel to be effective. Hand sanitiser needs to be rubbed in and left on both hands until they dry.(4)
What other advice is there?
Other methods to reduce the spread of COVID-19 and risk of infection include:(1,5,6)
More frequent hand washing with soap and water for at least 20 seconds, especially after coughing, sneezing or being in public places. Hand sanitiser may be used if that is all that can be accessed.
Sneezing or coughing into a sleeve or tissue, not your hands. If a tissue was used, this needs to be disposed of immediately. Hands should also be washed, or a hand sanitiser used immediately after.
Avoid touching eyes, nose and mouth with unwashed hands.
Objects and surfaces that are regularly used should be cleaned and disinfected frequently to help avoid transmission. This includes doorknobs, keyboards, countertops, phones and toilets.
Avoid contact with people who are unwell.
NHS advice is that patients with symptoms should stay at home and self-isolate for seven days and those who live with other people should stay at home for 14 days from the day the first person got symptoms.
Patients who live with someone who is over 70, has a long-term condition, is pregnant or have a weakened immune system should try to find somewhere else to stay for 14 days. If this is not possible, it is important to try and stay away from the people you live with as much as possible.
References