Over seven million adults in England are still smoking, and the toll it takes is severe. The latest figures from the Office for National Statistics estimate there were 79,000 smoking-related deaths in 2015.
The resulting burden on the NHS is huge: in England, smoking causes 475,000 hospital admissions and costs the NHS £2 billion every year.
There is good news, though. An estimated one million people have stopped smoking for good since stop smoking services were rolled out in England in 2000, and community pharmacies have played a huge role in this health success story, not least by taking part in Stoptober – an awareness month run by Public Health England (PHE) throughout October to encourage smokers to quit. As this year's campaign gains momentum, C+D rounds up the latest in this product category.
PHE backs e-cigarettes
New data from a University College of London (UCL) report shows quit rates are at their highest for 10 years: up to 20% for the first six months of this year, and higher than the average for the last 10 years (16%).
The UCL report claims electronic, or e-cigarettes, are now the most popular method used by smokers in England who try to quit. Last year, over half (53%) of all people who took part in Stoptober initiative opted to use an e-cigarette, and this year's campaign materials explicitly mention e-cigarettes as a quitting tool.
PHE recommends that community pharmacies should offer support to people who are using e-cigarettes to cut down or stop smoking. Gul Root, PHE's lead public health pharmacist, says: "Many smokers now use e-cigarettes as part of their quit attempt, so pharmacy teams need to be able to give sound advice to smokers who are already using them or want to use them."
But while she says there is "growing evidence" e-cigarettes can help smokers to quit, she cautions that they "aren't completely risk-free, but carry a small fraction of the risk of cigarettes".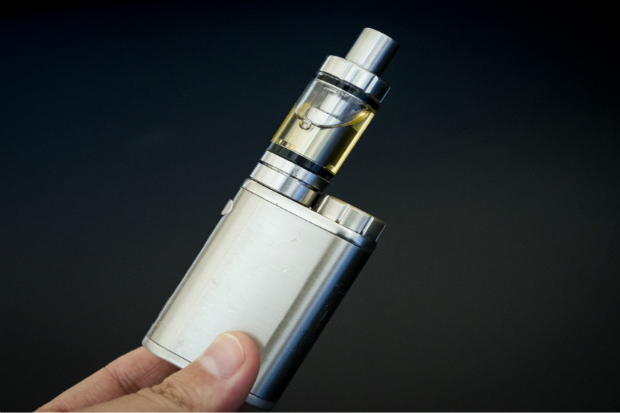 Cancer experts weigh in on the e-cigarettes debate
Two of the country's main cancer charities back the use of e-cigarettes as a smoking cessation aid – albeit with a note of caution.
Dr Penny Woods, chief executive of the British Lung Foundation, says: "Pharmacists can be very clear with people that they should try vaping [smoking an e-cigarette] as a way to quit smoking for good. Many people have used [them] to quit regular cigarettes, which are still the single biggest cause of early preventable death in the UK. However, vaping is not advisable for non-smokers, and until we have more evidence, we can't recommend vaping long term."
And Carl Alexander, from Cancer Research UK's cancer prevention team, says pharmacy teams should emphasise that "the most effective way to stop smoking is through a combination of medication and support. But for people who've tried to quit before, or don't want to use medication or nicotine replacement therapy (NRT), e-cigarettes could be another way to stop smoking."
New Nice draft guidance on smoking
Unlike PHE, the latest draft guidelines from the National Institute for health and Care Excellence (Nice) on Stop smoking interventions and services stops short of recommending e-cigarettes. Nice says "there is currently little evidence on the long-term benefits or harms of these products".
But the two organisations are keen to avoid accusations of having dissenting voices. A PHE spokeswoman told C+D the body is "essentially aligned with Nice", adding that its standpoint is "it is better that smokers use e-cigarettes than smoke".
Are pharmacies stocking e-cigarettes?
Lloydspharmacy not only recommends, but also stocks, e-cigarettes in some stores, Steve Howard, the multiple's superintendent pharmacist and quality and clinical standards director, told C+D.
"We have been carefully assessing the e-cigarette market for some time, balancing customer demand against considerations of product quality and safety," he says.
Lloydspharmacy was "very clear" that it would only stock e-cigarettes "if we could position them appropriately as a useful harm-reduction aid", he stresses.
"We further thought that there was a considerable professional opportunity to be realised by engaging customers in a meaningful conversation about the relative merits of harm reduction approaches like this."
But Lancashire local pharmaceutical committee member Thorrun Govind, a pharmacist at Sykes Chemist in Bolton, is not a fan. She says: "While e-cigarettes can have a role in helping reduce cigarette use, I can't 'recommend' them as clinical trials haven't been done. I have no proof that they are safe and I don't want to be encouraging something that I have no evidence for."
In the swing of Stoptober
At Numark, Laura Reed, the services provider's head of professional development, sees the e-cigarettes debate and the Stoptober campaign as very public opportunities for community pharmacy to promote local smoking cessation services.
The key to pharmacies doing this successfully is knowing where to signpost to: "This could be in the pharmacy or local services, so ensure you have contact details to hand to pass to customers," she advises.
An example are the C+D Award-winning Tees Pharmacies. These Healthy Living Pharmacies (HLPs) have embraced Stoptober and promote their efforts heavily on social media (see tweet, below).
Tees pharmacy Stoptober campaigns are well under way!#stoptober2017 #hlp17 pic.twitter.com/EC9kJHYFMj

— Tees Pharmacies (@HLPTees) October 4, 2017
Farah Ali, a pharmacist and general manager at the Warman-Freed Pharmacy in north London, takes part in Stoptober as she says it gives community pharmacy a higher profile, and "shows the public that healthcare solutions are available from many sources, including pharmacies".
"It gives us an opportunity to offer customers information about the support and products we can provide in their journey to quit," she says.
This can help pharmacies to build relationships with patients, she says. "If signposting into local services, build up those relationships so you can give customers the best advice, plus the number to contact, how they refer in, days and times available, and any waiting times. And if you are signposting into pharmacy services, have an appointment book ready to book the customer in."
Advice for pharmacies
PHE's commissioning recommendations for stop smoking services note that interventions provided in the pharmacy setting can be delivered successfully when staff are appropriately trained, monitored and mentored – but says arrangements need to be made to ensure this is in place.
Its September report, Pharmacy: A Way Forward for Public Health, suggests other opportunities for action, including:
• Local authorities commissioning pharmacy teams to deliver stop smoking interventions as part of their local service, and ensuring appropriate training is included in the contract
• Local authorities commissioning HLPs to provide stop smoking interventions for specific population groups, especially targeting people with chronic conditions
• NHS commissioners including references to brief advice on stopping smoking in specifications for GP clinical pharmacy services.
Impact of cuts to funding
But community pharmacy's efforts, in Stoptober and beyond, risk being undermined in areas where local councils are considering scrapping funding for smoking cessation services.
Nick Thayer, pharmacy services lead at Well Pharmacy, believes cutting these services is a "missed public health opportunity" and creates "unhelpful" barriers for pharmacies trying to access smokers, who become more difficult to reach as smoking rates decrease nationally.
"Some local councils have reviewed low uptake in pharmacy and rightly considered alternative approaches to providing for these patients."
With so many areas under financial strain, cuts to these services means pharmacies "need to demonstrate the value we add to the local community", Mr Thayer argues.
"It's vital that we provide a really high level of service," he says. "If community pharmacy continues to do that", he adds, it "will always have a role in smoking cessation".
What smoking cessation products can you recommend to patients?
Advice from the pharmacy services team at the National Pharmacy Association
Stopping smoking has multiple health benefits. It can reduce the risk of smoking-related diseases (such as chronic obstructive pulmonary disease, lung cancer and heart disease) and death. It can also improve circulation, lung function, physical appearance and people's sense of smell and taste.
Pharmacy teams are able to advise patients on smoking cessation treatment options and provide personalised behavioural support to people who wish to stop smoking. If both of these methods are used together, it can increase a smoker's chance of quitting.
You should always provide patients who are trying to stop smoking with verbal and written information to  explain that they are likely to experience temporary withdrawal symptoms. These include: increased appetite, irritability, nicotine cravings, reduced concentration, restlessness, sleep disturbances and weight gain.
Treatment options are nicotine replacement therapy (NRT), bupropion, varenicline and e-cigarettes. A patient's chosen treatment should take into account their preference, previous smoking cessation attempts, medical conditions, the medicines they take and any potential adverse effects. 
NRT is available as transdermal patches, nasal spray and oral nicotine products (for example gum, inhalators, mouth spray, lozenges, oral spray and sublingual tablets). NRT products can be combined for customers who have a high nicotine dependence level, or if a single product has been inadequate.
Bupropion acts on neuronal dopamine and noradrenaline mechanisms. Its mechanism of action and use in smoking cessation is unknown, however it is likely that it acts on brain pathways related to addiction and withdrawal. On the other hand, varenicline acts on nicotinic receptors. It reduces the symptoms of nicotine cravings and withdrawal, and stops the rewarding and reinforcing effect of smoking.
E-cigarettes have recently gained popularity; they deliver nicotine as an inhaled vapour via an electronic device. Long-term safety has not yet been established, however studies have shown e-cigarettes can help customers give up smoking.