A survey will be issued to contractors and their teams to "garner feedback on the proposals", which have been shared by the Pharmaceutical Services Negotiating Committee (PSNC) as part of its upcoming contract negotiations with NHS England.
PSNC has also set up a "funding models working group" to consider the potential ways the new proposals could be financed, it said in an update from its May committee meeting published last week (May 29).
The negotiator will initially push for a "transitional framework", which will make use of the services community pharmacy already offers, it said in documents published in April.
"Initial ideas" include pharmacies "manag[ing] medicines reconciliation post-discharge from hospital", "check[ing] cost effectiveness of medicines [by] challenging the prescribing of specific medicines or groups of medicines" and "repurposing" the NMS – to make it an essential service and potentially expanding it to also deal with depression.
PSNC said it "would like to see elements of the care framework introduced in a phased manner over the next two years", with "full commissioning" of all the proposals by the end of 2019 (see image below).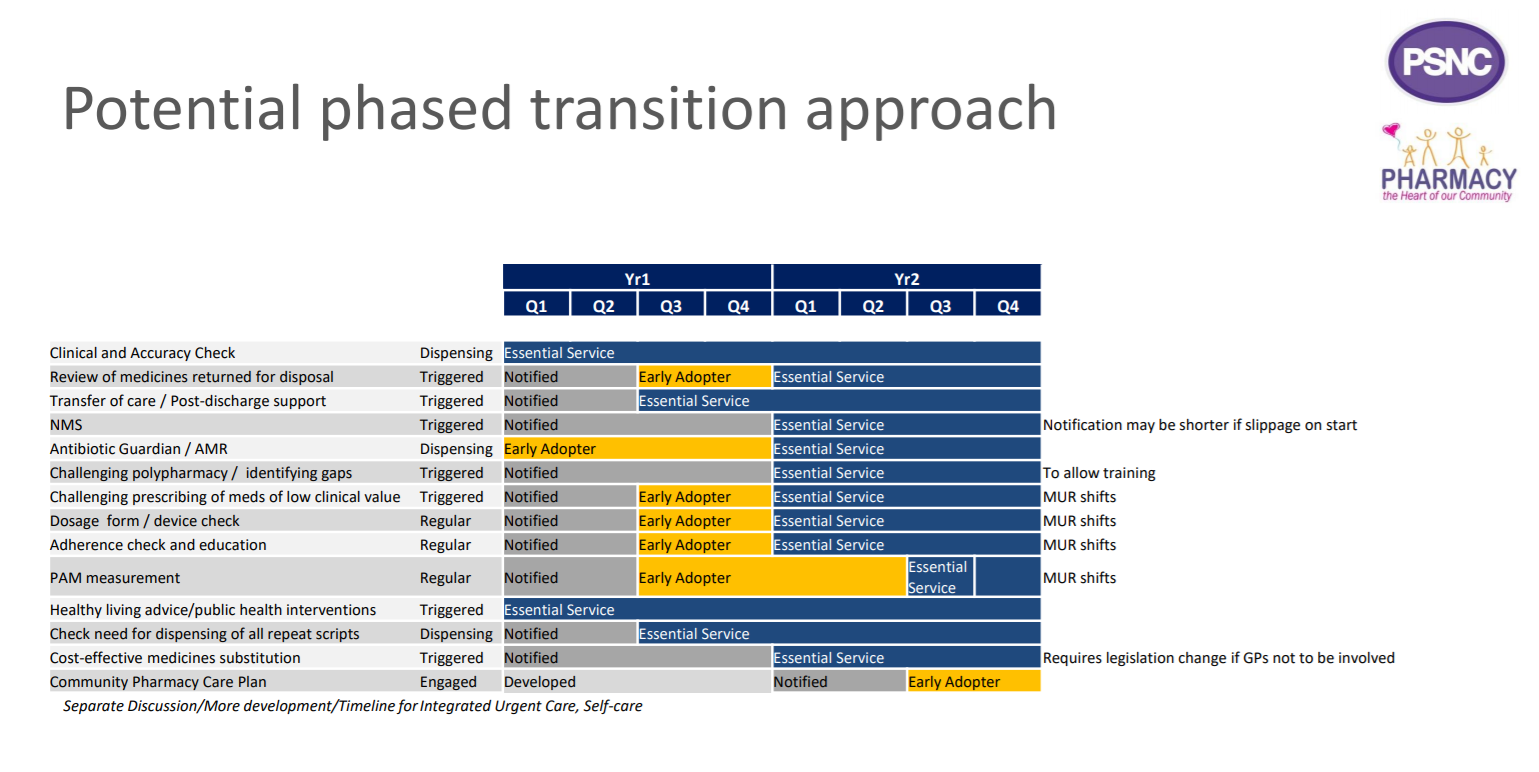 Funding negotiations yet to start
PSNC director of pharmacy funding Mike Dent told C+D that "negotiations for community pharmacy funding this year have not yet begun", and a survey will be issued on the PSNC website "as soon as possible".
"There would be many challenges for contractors if the NHS chooses to implement these or other similar ideas," PSNC acknowledged. "But PSNC is seeking a phased introduction of any changes and will offer guidance for contractors."
The negotiator stressed that "the proposals are initial ideas for discussion with the Department of Health and Social Care (DH) and NHS England and will evolve as those conversations happen".
In April, pharmacy minister Steve Brine told the all-party pharmacy group that the government will discuss "the detail" of paying pharmacies in England for their "care-orientated" role, in the contract negotiations.
Committee discusses pharmacy closures
PSNC also discussed pharmacy closures at its committee meeting in May, "several weeks" before the DH disclosed that a total of 156 pharmacies in England have closed in the wake of the funding cuts.
Mr Dent told C+D that PSNC is "reliant on local pharmaceutical committees and contractors to inform [the negotiator] of any closures, so [it is] not in a position to critique the DH data".
"We are working to ensure that we understand the DH's figures," he added.