The average hourly rate for locum pharmacists who completed the survey across the UK is £21.99.
While this figure is the highest since 2012 – when the average hourly locum rate was £22.79 – the year-on-year increase of 36p is less than half of the 2017-18 increase, which saw the rate jump 79p.
The C+D Salary Survey 2019, which ran between October 1 and November 14 and drew responses from 229 locum pharmacists, found that despite a fourth year of increasing average UK rates, 61% of locums surveyed are dissatisfied with their pay.
This year's rate may be the highest for seven years, but the average locum rate steadily declined between 2010 and 2015 and has not yet recovered.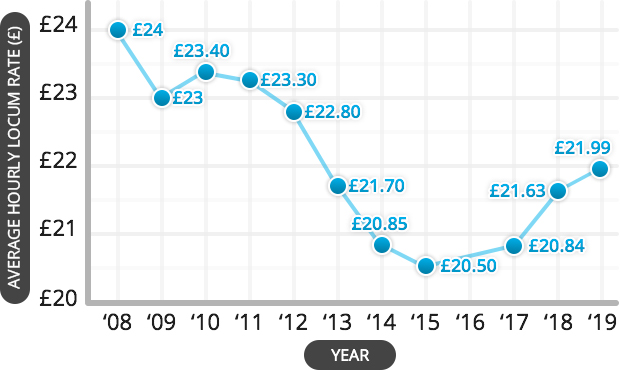 Rates by location
Regionally, Wales saw the highest average hourly rate increase between 2018 and 2019 of £1.74 an hour, bringing the average up to £24.17 – the highest in the UK.
This was followed by the south-east of England – not including London – which reported a pay increase of £1.13 per hour. The average hourly pay of £22.40 is the third highest in the UK.
The largest decrease in the UK was reported in the south-west of England, where locums experienced a drop of £1.08 per hour, bringing their average pay down to £21.80.
In Northern Ireland, pay decreased by 33p and in Scotland by 19p, to £15.67 – the lowest in the UK by far – and £23 respectively.
See the full regional breakdown of average hourly pay rates on C+D's pharmacy locum map.
 Job satisfaction
Despite the increase in hourly pay, 61% reported feeling dissatisfied with their locum rate.
The highest level of discontent was recorded in the north-west of England, where 76% of locums said they are dissatisfied with their pay.
Conversely, although the average rate of pay in Northern Ireland is the lowest in the UK, only 33% of pharmacists in the region reported feeling dissatisfied.
Pharmacists in Wales were the least likely to be unhappy with their pay, with just 22% of respondents reporting they are dissatisfied.
The C+D Salary Survey 2019 – the largest UK survey of community pharmacy, and the biggest in the survey's 12-year history – ran between October 1 and November 14 and was completed by a total of 2,556 pharmacists and pharmacy staff. C+D's ongoing coverage from the survey can be found on our dedicated hub.
Search through hundreds of locum pharmacist jobs on the C+D Jobs website